Our actions of prevention and control of COVID-19, coronavirus, will be carried out in accordance with the specific regulations of application, today Royal Decree 830/2010, of June 25, and the UNE-EN 16636: 2015 standards establishing the hygienic-sanitary criteria for the prevention and control of Harmful Organisms or Pest Management Services.
The performances shall include:
Situation diagnosis. Evaluation of the risk of the installation and local factors that may promote its subsequent proliferation.
o Preventive disinfection to decrease the viral load of the facility.
o Shock disinfection by confirmed presence of coronavirus, determining the area of risk: Work station where the case of COVID-19 and commonly used areas transited by the affected person (washbasins, corridors, etc.) has been detected.
• Identification of the preventive measures necessary to mitigate the risks of proliferation.
• Control of compliance with the service delivery program, by:
o Spray disinfection of evaluated areas.
o Nebulization disinfection of the facility.
The disinfectants we are using are highly effective against the spread and elimination of bacteria, coronaviruses and viruses in general, both indoors and on surfaces, are safe for people and/or pets, and leave little residue at the end of their process.
All the products we use are registered and authorized for the elimination of Coronavirus (COVID-19) by the Ministry of Health, Consumption and Social Welfare, and we will incorporate those advised by the Health Authorities and improve the current ones.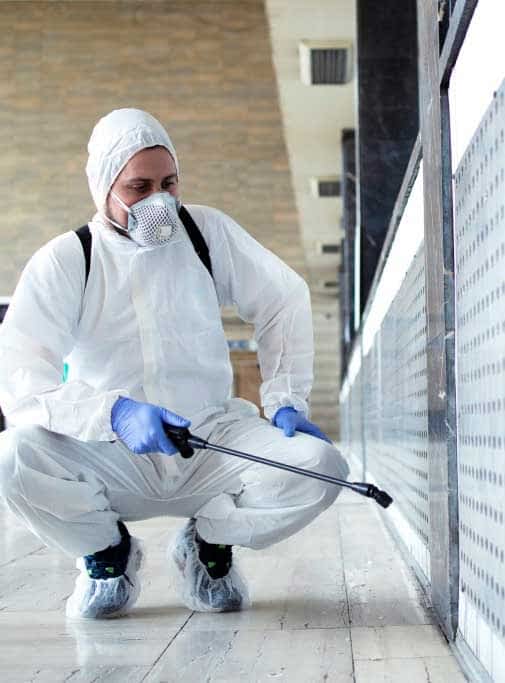 Fill the next form and tell us what do you need or what are you looking for. We are here to help you.
IMPORTANT!! ANY CV RECEIVED THROUGH THIS FORM WILL BE DISCARDED. TO SEND US YOUR CV CLICK HERE.